Blue Skye Wellness is pleased to be able to offer classes and  workshops covering various aspects of the practice of aromatherapy.
Topics include:
An Introduction to Essential Oils and Aromatherapy
Safe Practices for the Use of Essential Oils
Essential Oils: Balms and Butters
Essential Oils: Special Populations
Essential Oils: Emotional Support
Essential Oils: In the Home
Essential Oils as Pest Deterrents
Essential Oil Play Day
Full Day Essential Oil Workshop
Classes and Workshops can be geared towards the specific needs and interests of small groups, clubs, libraries, community organizations, schools and health care facilities. Contact us to discuss scheduling and fees.
An Introduction to Aromatherapy: The Basics
This class is designed to provide a basic understanding of what the use of essential oils is all about. Topics to be covered include defining essential oils, explanation of how they are derived, discussion of their beneficial properties and an outline of safe use practices. Participants will have the opportunity to create a room spray from commonly used essential oils to take home.  This class will be held on Thursday February 21st at 6pm at the Middlefield Senior Center or Friday February 22nd at 10 am at the Chester Village Enterprise center. Please call Kay at (413) 242-4069 or send an email to blueskyewellness.aromatherapy@gmail.com to reserve your spot.
A materials fee of $25.00 will be collected at the class.
We hope to see you there!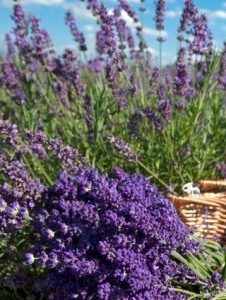 Essential Oils and Aromatherapy: Full Day Workshop
(Click on the blue hyperlink above for more information and to register for the Workshop)
Saturday September 29th 9:30am-4:00pm
Lenox Community Center       Pre registration is required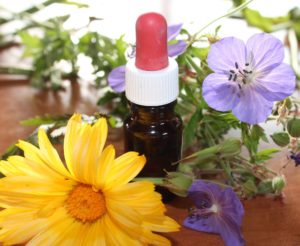 Southern Hilltowns Adult Education Center Series
Held at the Village Enterprise Center,  Main St., Chester on the third Friday of the month from 10am to 12pm
$25 materials fee for each class  Registration is required                       
Call 413-242-4069 or email blueskyewellness.aromatherapy@gmail.com
Aromatherapy and Skin Care: Topical Applications 10/19
Aromatherapy for Emotional Support 11/16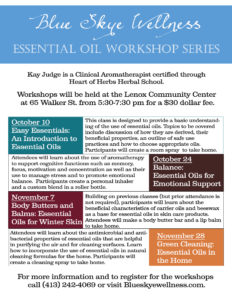 Blue Skye Wellness Essential Oil Workshop Series
This series will be held at the Lenox Community Center 65 Walker Street, Lenox
There is a $30 materials fee for each class.
Registration is required. To register call          413-242-4069 or send an email to blueskyewellness.aromatherapy@gmail.com