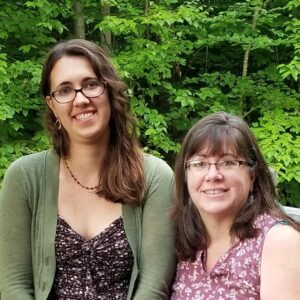 Blue Skye Wellness, LLC is a mother and daughter collaboration! In addition to a range of beautifully crafted self care products we offer Aromatherapy Consultations, Educational Classes and Workshops, Traditional Usui Reiki sessions as well as SoulCollage®  Facilitation to support your quest for emotional, physical and spiritual well being.
Kay Judge is a Clinical Aromatherapist, certified through Heart of Herbs Herbal School and The Eclectic Institute of Aromatherapy and Herbal Studies. Kay has studied with Demetria Clark, Linda Patterson, Kathy Duffy, Kelly Ablard, Rosemary Gladstar and Kelli Hughart. She has continued her Aromatherapy education by studying with Aromahead, Stillpoint Aromatics, The School for Aromatic Studies, RBK Aromatherapy, The Tisserand Institute, Lunaroma and others.  She is a business member of  the National Association for Holistic Aromatherapy  as well as a professional member of the Alliance for International Aromatherapists.
Kay is also a Reiki Master, taught by spiritual healer Rebecca Bleecher and energy medicine practitioner Maureen Suriner. In June of 2020 she received her SoulCollage® Facilitator certification.
Erin Judge is the brains behind the formulations for Erin's Essentials, a line of Aromatherapy products including soap, body butter bars, lip balm, bug and tick sprays, essential oil roller blends and other specialty items. Erin's Essentials was born from the desire to use honey and beeswax from our own bee hives in self care products made from naturally derived ingredients.
The mission of Blue Skye Wellness, LLC is to offer carefully handcrafted self care products and to provide education about the safe use of essential oils, the benefits of Reiki and the rewards of SoulCollage® to enable clients to make informed decisions regarding the choices they have in order to reach their health and wellness goals.