The Benefits of Using an Essential Oil Personal Inhaler
The Benefits of Using an Essential Oil Inhaler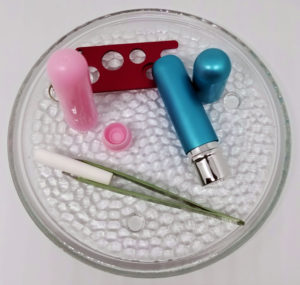 One of my favorite ways to use essential oils is with a personal inhaler. There are inexpensive plastic ones, aluminum with glass inserts and the easy DIY method with a cotton ball in a bottle. Personal inhalers are an effective way to carry your essential oils in a safe and portable way. They also contain the aroma of the oils to be used individually, anytime that you need them, without affecting others in the room. Sometimes running a diffuser isn't practical or advised, such as when small children or pets are present or in a public or communal space. A personal inhaler is a great alternative to room air diffusion. They are also an economical way to use essential oils because the approximate 15 drops of essential oils in a personal inhaler can last for about three months.
An inhaler is good to use when your goal is to support emotional well-being, relieve stress, encourage restful sleep, boost concentration and focus, as well as to promote respiratory health.  When using essential oils to address an issue that is not related to the skin, joints or muscles, inhalation is the most effective mode of application. Inhalation of essential oils into the nasal cavity allows the aromatic molecules to directly affect the limbic system, they are also absorbed into the bloodstream via the lungs.
When I make a personal inhaler I like to use just a few oils in order to keep from muddling the scents. I choose oils that I think will work together for a desired result. When making an inhaler for children I will use fewer total drops of essential oils (usually about 10 total drops) on the cotton wick. A personal inhaler is easy to use, just remove the cover and hold the end with holes in it to one nostril, press the other nostril closed and inhale through your nose. Repeat this on the other side. You may use a personal inhaler as needed throughout the day.
For a great visual tutorial you can watch Andrea Butje from Aromahead create an inhaler www.youtube.com/watch?v=twXKKkjiLnQ
For more information on why inhalers work so well you can read the following http://www.usingeossafely.com/inhaling-essential-oils-why-you-should-when-and-how/
http://tisserandinstitute.org/learn-more/what-happens-when-we-smell/