How to Pick an Essential Oil Diffuser
One of the easiest and most effective ways to use essential oils is in an ultrasonic diffuser which diffuses the oils in a cool mist right into the air. If you go online and start looking for one of these diffusers you will be inundated with an endless supply of options made with many different materials, with different lighting options, in different sizes and from the very cheap to the extravagantly expensive. So how do you decide what is the best option? In our last post Kay discussed the benefits and precautions around diffusing and these are all good things to keep in mind. While most manufacturers will boast of the run-time on their diffusers, saying things like 10 HOURS OF CONTINUOUS DIFFUSION, we know that this is not ideal at all. In order to prevent over saturation of the olfactory system and habituation to the scent we should not diffuse for more that an hour at a time. For longer periods using less essential oils and an intermittent diffuser that cycles on and off for at least 30 minutes is ideal.
When we first started using essential oils I received a diffuser as a gift, and it worked fine but as mom started her journey to become a Certified Aromatherapist and shared what she was learning with me I found myself using it less and less. Why? Honestly it's because I was to lazy to turn it on and off! I would tell myself to turn it off after half an hour and then forget, or not want to get up from where I was ensconced under piles of grading or cuddled up with a good book. Who cares that the diffuser was just a few steps away, I just didn't want to bother. So I stopped using it. A few months ago I started searching for a diffuser that had an intermittent cycle so that I could use it without worrying about keeping track of time or disrupting my grading flow and I was surprised at just how difficult it was to find one! Most manufacturers are just trying to extend the diffusion time, they don't seem concerned about the safest and most effective use of the oils, and likely they just don't know. Some do have what they call an 'intermittent setting' but it is only 30 seconds on and off which is not what we want.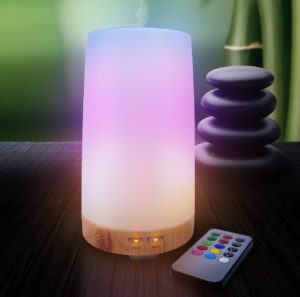 Plant Therapy has their AromaFuse diffuser which has 30 minute intermittent cycle, but it's more than $50… And that is more than I am willing to spend, especially since my old one still technically worked. Finally, after ages of combing through the descriptions of diffusers on Amazon I found the LED Concepts ultrasonic diffuser which, unfortunately, is now unavailable.
~ Erin
Update: We have not been able to locate a source for a 30 minutes on and a 30 minutes off intermittent misting ultrasonic diffuser other than the Plant Therapy Aromafuse. There are however a few that have 30 minute shut off timers. The following is a list of a few of the models that we found.
Glass Marble Diffuser SUNPIN Essential Oil Diffuser Allure Aromatics PUSEAYZ Lavender Glass diffuser
We will keep looking. In the meantime, Be Well. Kay